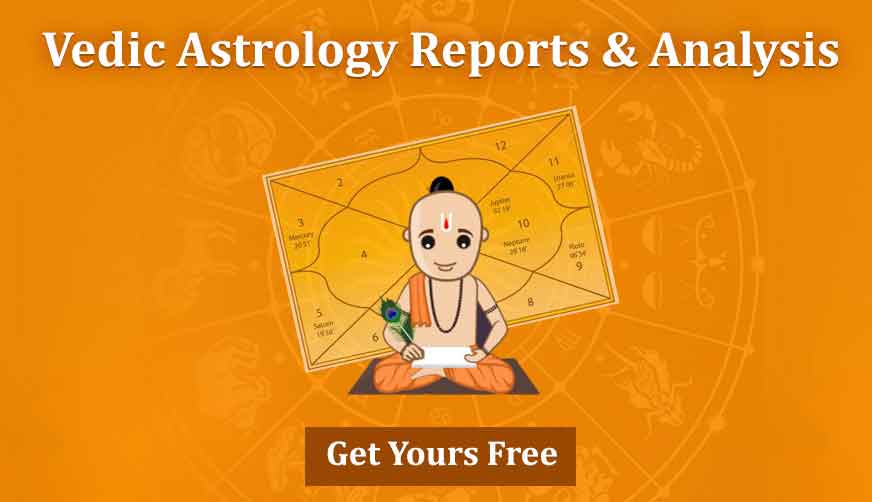 Significance of Bhoota Vargh in Matching Kundlis for Marriage
Marriage is a social institution in India. It is not only a custom or tradition, but an integral part of life where trust, responsibility, and promise of a union of two persons and their families.This union is considered very important. The matching of Kundalis of both the bride and the groom is done to see the overall temperament, behavior and physical compatibility.

The relationship between a husband and a wife is the most complicated amongst all relationships of this world. A trivial slip in this relationship may ruin lives. For this reason, it is very important to assess the crucial elements determining a happy married life before fixing a marriage. Although people take all possible measures to find the right match, sometimes though after a thorough assessment of Kundalis of boy and girls, problems occur in their married life.

Astrologers say that superficial assessment of Gunas of a couple creates problems in their married life. As a result, the fixed planetary qualities in the Kundalis remain oblivious to us. To ensure a happy and peaceful married life, Kundali matching is required before fixing a marriage. People can match Kundali either by North Indian or South Indian astrological method of Kundali matching.

In North Indian astrological method Kundali matching is done by considering the 8 Vargh or Ashtkoota, whereas in South Indian astrological method it is done through assessing the 20 Koota or Beeskoota. If a native wants to consider Kundali matching in South Indian way, then one of the important considerations on which the match will be compared is the Bhoota Vargas.

According to Prashna Marg, the 27 Nakshatras are divided into 5 prime elements (Panch Maha Bhoota). The 5 prime elements are Prithvi Tatva (Earth element), Jal Tatva (Water element), Agni Tatva (Fire element), Vayu Tatva (Air element) and Akash Tatva (Sky element).

The Nakshatras are placed in Bhoota Vargh in 5, 6, 5, 6, 5 sequence. Thus, the Prithvi Tatva has 5 Nakshatras in its control namely, Ashwini, Bharani, Kritika, Rohini and Mrigashira. Jal Tatva has 6 nakshatras, and they are Adra, Punarwasu, Pushya, Ashlesha, Magha, and Purvaphalguni.

The Agni Tatva consists of Uttaphalguni, Hasta, Chitra, Swati, and Vishakha. The Vayu TAtva contains 6 Nakshatras viz. Anuradha, Jyestha, Moola, Purvashadha, Uttrasadha and Shravan, and the Akash Tatva have Ghanistha, Shatavisha, Purvabhadrapada, Uttara Bhadrapada and Revati.

If the bride and groom's birth Nakshatra fall under the same Bhoota Vargh then it is considered to be an excellent match. Prithvi Tatva creates an auspicious combination with other elements thus it is also good for marriage.

Astrology says marriage is fine between a boy and a girl if any one of them has birth Nakshatra of Prithvi Tatva. Astrologers say that the Akash Tatva is mediocre for this matter. The best combination among these is Prithvi Tatva and Jal Tatva. Astrologers say that the combination of Jal and Agni Tatva is dangerous. If a couple's birth Nakshatra falls under the category of Jal and Agni Tatva then it is very inauspicious for their married life. Astrology does not permit marriage of this combination.

There are twenty such Kootas while matching of all of them may not be possible in deciding their compatibility. It will require an expert astrologer to see that the two persons can come together in a marital union which is fruitful and progressive for their future.People these days are certifying a marriage solely on the basis of Gunas indicated by computer software. However there are many other aspects which only an astrologer can see and suggest. It is advisable not to judge without professional consultation.
---