Assessment of Success in Business through Prashna Kundali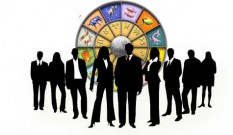 Some people do a job while some prefer a business for their livelihood. When we start a job or business, we start with a lot of apprehension. Running a business involves a lot of risk. However, to get a fair assessment of our chances of success at business, we can consult an astrologer who can judge our prospects from the birth-chart. Astrologers consider the tenth house to make predictions about job and for business they consider the seventh house. The position of Ascendant/Ascendant lord should be considered too.
If the Ascendant/Ascendant lord are auspicious and strong in the birth-chart the person gets benefits. If they are inauspicious and weak the person may have to struggle a lot. The income from business is considered from the seventh house. The position of the seventh house/seventh lord and Venus which is the kaarak planet of the seventh house is considered. If these are auspicious and strong in the birth-chart you will reap benefits in business. If Moon has an auspicious aspect on the seventh house/seventh lord you will get rapid success.
During the assessment of the seventh house the position of other planets along with the seventh lord, Venus and Moon must be acknowledged because Sun, Mars and Jupiter also help to achieve success at work. Moon, Venus, Mercury and Saturn play a vital role in a successful business. Rahu and Ketu can provide instant profits or instant losses. According to Astrologers if Rahu and Ketu form a good relationship with above mentioned planets in your birth-chart you will receive sudden profits and if they form an inauspicious relation you may have a sudden loss.
Location of Saturn in the seventh house is auspicious but it makes you work very hard, however you will get desired results and due to its influence you will gradually expand your business in different areas.
Many famous Astrologers say that you can know the prospects for partnership business through the seventh house. If the seventh house is influenced by auspicious planets or auspicious planets aspect it your partnership business will be successful. If malefic planets aspect or are placed in the seventh house your partnership business may run into problems.
Before we conclude, it can be said that the influence of the auspicious planets is beneficial for the partnership business and independent business while the inauspicious planets can give you unfavorable results.