Judging The Strength of Signs And Planets Through Astrology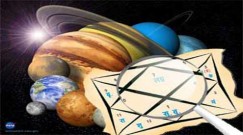 In Jaimini astrology, Strength of signs are classified into six distinct categories which are as follows:
a) Strength Due to Atamakaraka Planet:
Atamakaraka planet is the most important planet in the horoscope. Planet which has the maximum degrees of all the planets in its sign is the Atamakaraka planet. The Sign in which the Atmakaraka planet is placed is considered the strongest sign of the kundali.
b) Strength From Association:
Strength from association is considered by different positions of planets which are:
1. When comparing two signs, if no planet is placed in one sign, and one or more planets are placed in another sign then the sign which has the planets is stronger than the sign which is vacant.
2. If planets are located in both the signs then we will consider which sign has more and stronger planets in one house and in another should have less number of planets. The sign which has more number of planets will be stronger than the other house.
3. If equal planets are placed in both the signs then we should consider their status of the planets, are they exalted or debilitated or placed in Moola Trikona sign or friendly house or enemy house. The sign which has exalted planets or those planets which are placed in the friendly sign or in their own house will be the stronger sign.
c) Strength From Location:
Location is important in the consideration of strength of signs in Jaimini astrology. If a planet is exalted or it is placed in Moola Trikona house then it will be a very strong planet. If a planet is located in its own sign or friendly sign or neutral sign then it will be strong, but will have lesser strength, if it is placed in a debilitated house then it will lose strength and will become weak.
1) If there are two planets placed in two houses, and one planet is placed in its sign of debilitation and the second is placed in its sign of exaltation then the planet located in the sign of exaltation will be the stronger planet.
2) If the two sign have equal strength otherwise then the strength is determined through its classification in Cardinal (Chara), Fixed (sthir) and Common (Dwisvabhava) signs. Under this rule, a fixed sign is stronger than a cardinal sign and common sign is stronger than fixed sign, therefore, a planet placed in the common sign will be stronger planet than a planet placed in a cardinal sign.
d) Strength From Aspect:
The sign will be strong if Mercury and Jupiter or its own lord form a conjunction in it. If Jupiter aspects Mercury or Mercury aspects Jupiter then sign will be strong. If Jupiter is placed in its own house and Mercury is also placed in its own house then too the sign will be strong.
e) Strength Due to Lordship:
There are two sources of planetary strength through lordship and they are
a) Amsa Bala: The planet which has the highest longitude in the birth-chart will be the strongest of all the planets.
b) Moola Trikona Bala: In this Bala, planets which have lordship of Moola Trikona houses will be stronger when compared to other planets which are placed in own houses, friendly houses, neutral houses, enemy houses and debilitated houses.
Planet which is placed in the exalted house will be strongest and planet which is placed in the debilitated house will be the weakest planet in the birth-chart. The strength of planets in decreasing order is as follows: Exalted, Moola Trikona, Own-sign, Friendly sign, Neutral sign, Inimical sign and Debilitated sign.
f) Strength From Odd Signs
Odd signs are stronger than even signs. Odd sign are the signs which are located in the 1st, 3rd, 5th, 7th, 9th and 11th houses.
g) Atamakaraka Disposition Strength
Strength is also considered according to the placement of planets in Kendra, Apoklima and Panaphara houses counting from Atamakaraka planet. A planet which is placed in Kendra will be strong, planet which is placed in a Apoklima house will be less strong and the planet which is placed in a Panphara houses will be the weakest of the three.