Vedic Astrology for Marriage Point, Love & Discord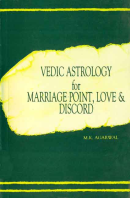 About Vedic Astrology for Marriage Point, Love & Discord
price:
Rs. 150.00
Tags:
vedic astrology ,
Marriage astrology ,
apply Astrology
Categories :
Marriage Astrology ,
Vedic Astrology
What is Astrology & why one should apply Astrology. These are some basic questions arising in the mind of a young boy, whenever an old man, known as astrologer, coming to his house on good or bad occasions for giving astrological advise to the elders in the family. By looking into a small chart, the astrologer used to tell about the past, present & future of the native. He used to tell the exact moment when Solar eclipse & Lunar eclipse will take place. It was all very interesting & amazing.
Reviews of Vedic Astrology for Marriage Point, Love & Discord