Lal Kitab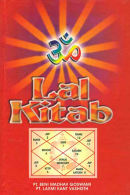 About Lal Kitab
price:
Rs. 500.00
Tags:
vedic astrology ,
Lal Kitab Astrology ,
Samudrik Shastra
Categories :
Vedic Astrology ,
Samudrika Shastra
The maiden issue of Lal Kitab School of astrology came into existence in the form of Ilme Samudrik Ke Lal Kitab Ke Arman in 1939 A. D. which was having 383 pages. The other issues which hit the market were Ilme Samudrik Ki Lal Kitab Ke Farman 1940 having 280 pages. This book was supplementary to the 1939 publication. Lal Kitab published in 1941 gained fame as Gutaka, however, it was titled as Lal Kitab Tisra Hissa having a binding of 428 pages. In 1942 fourth part of this book was published and christened as Ilme Samudrik Ki Lal Kitab. This book was bundled in 384 pages.

All these book were published by one Sharma Girdhari Lal, R/O Pharwala, P. O. Noor Mahal, Dist. Jalandhar, (United Punjab). In these books there was no mention of the author. The 1939 edition was priced at Rs. 2.2 aane, 1940 Rs. 1.5 aane, 1941 Rs. 2 and the 1942 Rs 4.2 aane. All these books were printed at Hazi Press, Lahore by one Hafiz Mohd. Ismail printers of Lahore and distributed by Calcutta Photo House, Hall Bazar, Amritsar (United Punjab).

The 1952 edition of Lal Kitab (1173 pages) was printed at Narender Press, Delhi, and distributed to officers in defence services or to those who had faith in Lal Kitab School of Astrology free of cost. On this book it was clearly inscribed "for private circulation only"

The present work on Lal Kitab is based on 1952 edition but while compiling this work, uncovered matter published in all other editions of Lal Kitab has also been incorporated.

Lal Kitab was christened thus due to its red outer cover probably keeping in view the auspiciousness of the colour in Hindu mythology. This book deals with the Samudrik Shastra of occult, a science based on palmistry/phrenology and other associated fields.

Though it is a part and parcel of Vedic astrology, its contours are different and has its own grammar. For example, the house of ascendant would always be No. 1 irrespective of the position of the planets.

While translating this book Pt. B. M. Goswami tried to put in his experience in the field of astrology. Pt. Laxmi Kant Vashisth the co-author of the book is working as an Urdu-Arabic translator with the Govt. of India and has a good knowledge of astrology.

The authors have tried to ensure that the book adheres to the fundamentals of Lal Kitab School of astrology while adapting to the modern day scenario.

The remaining four parts of Lal Kitab translated in Hindi language are readily available with the publisher of the book i.e. Sagar Publications.

Astrology, as professed in the general sense is said to be part of the Vedic scriptures of ancient India and a major part of it has been culled out from Ayurveda. It may be added here that Hippocrates the most revered name in medicine had also said that "A physician without a knowledge of Astrology has no right to call himself a physician." There is no denying the fact that Astrology, as professed in Lal Kitab is highly influenced by Vedic scriptures, but the fact remains that it is less ritualistic and more social-friendly.

During the 9th to the 12th century AD, there was a huge migration of Hindu Aryans from Gaur (now Malda) and Kamrupa regions of Eastern India due to frequent attacks from foreign invaders. These people, particularly Brahmins traveling towards West settled in the plains of undivided Punjab and further in Jammu and Kashmir

The Oceanic knowledge which was scripted in the form of Lal Kitab is nothing but the same knowledge which was preserved by the astrologers of Gaur for centuries through Guru-Shishya tradition. The area referred to above did not come under foreign influence hence and this field of astrology was not influenced by any other school of Astrology. Hence, we coined a new name for this schools of astrology as Lal Kitab Astrology for our convenience. It may be worth mentioning here that this schools of astrology is very much a part and parcel of Vedic astrology.
Reviews of Lal Kitab