Natal Chart from the Palm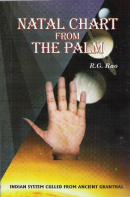 About Natal Chart from the Palm
price:
Rs. 110.00
Tags:
vedic astrology ,
Indian Astrology ,
palmistry astrology ,
Samudrika
Categories :
Vedic Astrology ,
Samudrika Shastra ,
Palmistry Astrology
Indian scholars have been studying astrology since time immemorial. One can easily trace out the source of astrology as well astronomy in the Vedas—the oldest books in the library of the world. Palmistry, Physiognomy or Samudrika are important branches of Indian astrology. The subject matter of this science is prediction, i.e. to foretell one's fortune. By the careful study of palmistry it is possible to diagnose on sight the diseases a man is susceptible to, the fortune he will have in life, his education, profession, matrimonial relations, progeny and status in society. On the basis of such diagnosis a person can be guided to lead a happy and successful life.
Modern age is an era of re-awakening. Astrology and palmistry are now being studied on scientific lines in India and abroad. Genuine readers are realizing the worth and utility of the study of palmistry. That is why this book has been published. It is written in very simple language. Most of the theories have been analysed and illustrated by figures, diagrams and charts.
Reviews of Natal Chart from the Palm