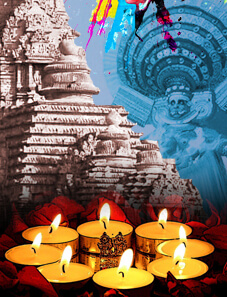 Free Vedic astrology
Vedic Horoscope
Daily Astrology
Compatibility
Yearly Horoscope
Lal-Kitab Astrology
Numerology
Hindu / Indian Names
Worshiping Dolls on Dussehra in South India
Festival of Dussehra is celebrated in a unique way in the Southern states of India. At the time of Dussehra, dolls and toys are decorated in every house of South India. This tradition had begun from the house of kings in ancient time. It is known as Gombe Habba. In simple words, it is called the Dussehra festival of South India. In ancient times, festival of Dussehra was limited to the rich families. But, it gained popularity with time and reached to the normal people.
Popularity of Dussehra Celebration
When this festival was celebrated in palaces, only few people could enjoy it. Doll made during this festival is gifted to daughter during her marriage. In those days, girls were married at the beginning of their adolescence. Even after getting married, these girls used to like playing with dolls.
this festival gained popularity with time because children used to participate with full enthusiasm and joy. They used to take help of their elders in the decoration of their dolls. this festival was specially dear to girls.
These types of festival play a significant role in understanding the life style and tradition of rich families in ancient days. In form of 9 Goddesses of Navratri, total 9 dolls are decorated. these 9 dolls represent the 9 incarnation of Goddess Durga. These dolls give the information of the handicraft, during those days.
Representation of 9 Goddesses as 9 Dolls
In the present time also, dolls are decorated on 9 levels. One doll is decorated each day and included in the group of dolls. On the 9th day the 9 dolls are called with the name : Shailputri, Brahmacharini, Chandraghanta, Kushmanda, Skanda mata, Katyayini, Kalratri, Mahagauri, Siddhidatri. These Goddesses in form of dolls, destroy the inauspicious powers in the family.
Presentation of Dolls on Dussehra
The tradition of decorating dolls on Dussehra is still followed in Karnataka, Andra Pradesh, Tamil Nadu, Kerla, Maharashtra, Madhya Pradesh, Gujarat, Uttar Pradesh, Bihar and West Bengal. These dolls give us the view of culture residing in the following states. Today the time has changed, decoration of dolls is not just restricted to home.
It has become the part of big art exhibitions in India. Samples of such incomparable work from different states can be seen in such exhibitions. Each doll is decorated in a special manner by the artist.
Dussehra Celebration in Tamil Nadu
In Tamil Nadu, dolls are kept out of the house before the starting of Navratri. Toys are cleaned. A step shaped shelf is made to decorated the toys and dolls. There is a tradition of making 5, 7, or 11 steps. On the top most stair, Goddess Durga, Lakshmi and Saraswati are given the place.
After this, other god and Goddesses are given position on other stairs. In brief, toys are in form of small Jhaki. In the last step, children decorate their personal toys. According to a belief, this custom is the indicator of universe's creation by lord Brahma.
Puja of these toys is carried from Navratri to Dussehra. For the first 3 days of Navratri, Goddess Durga is worshipped. Next 3 days, Goddess Lakshmi is worshiped followed by Goddess Saraswati. This festival is of great significance for the children. they get to eat Prasaad from many homes.
---
Comment(s) on this article
There no comments yet. Be the first to leave one.
Leave Your Comment

Please wait