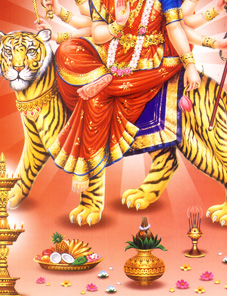 Free Vedic astrology
Vedic Horoscope
Daily Astrology
Compatibility
Yearly Horoscope
Lal-Kitab Astrology
Numerology
Hindu / Indian Names
Chaitra First Navaratri 2017 Dates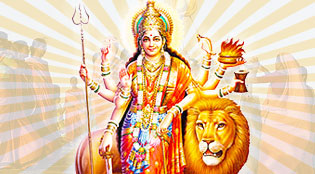 Nav Samvatsar will start from 28th March 2017. This day is the first Navratri of Chaitra Shukla Paksha and so, Kalash Sthapna is being performed. Nine incarnation of Goddess Durga are worshipped on these nine days of Navratri in a systematic manner. Moreover, a person gets virtues by performing Puja, meditation, Yagya, donations, fasting etc. in theses days. This year, the Navratri festival will be till 5th April 2017.
Lord Ganesha Pujan
On the date of Pratipad, before starting Navrati Puja, Kalash Sthapna or the Ghat Sthapna is performed. Devi Pujan has a great Mahatmya in the Hindu Dharm. In this period, 9 days fasting is observed. On the 9th day, 10 years old girls are worshipped and offered food.
Ghat Sthapna in Subh muhurat
In every religious pilrimages, Ghat Sthapna is performed during the auspicious muhurat after sunrise. On the first day of Navratri, Goddess Durga and Lord Ganesha is worshipped. Seeds of barley and wheat are sown in soil, placed in a vessel made of mud.
On the day people take the resolution of fast, Yagya, Puja and start worshipping Goddess. on the first day of Navratri, Shailputri incarnation of Mata is worshipped. It is well known that Mata Shailputri is the daughter of Himalaya and is also known as Goddess Parvati. Fast is observed during Navratri in order to please Goddess. And, Path of Maa Durga is performed at night. A person get auspicious results of performing Jagran in the nights of Navratri.
Nine Incarnation of Goddess
Nine incarnations of Mata are worshipped during Navratri. the names of nine Goddesses are as follows :-
Shailputri
Brahmacharini
Chandraghanta
Kushmanda
Skanda Mata
Katyayani
Kalratri
Maha Gauri
Siddhidatri
Chaitra Paksha First Navratri - Ghat Sthapna Procedure
Shardiya Navratri is begin on Pratipada Tithi of Ashwin Shukla Paksha by Kalash Sthapna. In Hindus, Kalash is considered as the form of Mangalmurti Ganesha. Hence, first of all, Kalash Sthapna is performed. for this, the ground is made pure and clean by applying a paste of cow dung and Ganga Jal. As per the process, 7 types of soil is taken and a Peeth is prepared. If 7 types of soil is not available, then soil brought from river is mixed with Gangot (soil of river Ganga) and Kalash is established on this.
Mata Shailputri Puajan - Devi Pujan on First Day of Navratri
In Kalash, seven types of soil (Saptamatrika),betel nut,money is offered. And Kalash is adorned with five types of Pallav. Beneath the urn, 7 types of cereals and barley is grown which is cut on Dashmi Tithi. Worshipper and his family get blessings of happiness, wealth, health by chanting the mantra "जयन्ती मंगला काली भद्रकाली कपालिनी, दुर्गा क्षमा शिवा धात्री स्वाहा, स्वधा नामोस्तुते".
Goddess Statue Establishment
Statue of Goddess Durga is placed in the middle of the worshipping place. On the right side of the statue, idols of Devi Mahalakshmi, Ganesha and a Yogini named Vijaya are placed. On the left, idols of Karthikeyan, Mahasaraswati and Yogini Jaya are placed.
Lord Shiva is also worshipped as no prayer is considered complete without his Pujan. On the first day, Devi Shailputri is worshipped in the form of Bhagwati Durga Durgati Nashani is worshipped with flowers, Akshat, Roli, sandalwood. This way Durga Puja is started and every evening, Aarti of Goddess Durga is performed. Devotees sign the bhajans 'Jag Janani Jai Jai' and 'Jai Ambe Gori', while performing Aarti.
Navratri : Grah Shanti
Procedure of Nav Grah Shanti during Navratri are as follows:-
On the day of Pratipada, Mars planet pacification is done.
On Dwetiya, work related to Rahu planet pacification are performed.
On Tritiya, Jupiter planet pacification works are done.
On Chaturthi, a person performs Saturn pacification and avoid the inauspicious effects of Saturn.
On Panchami, Mercury planet, on Shashti Tithi, Ketu, on Saptami, Venus planet pacification, on Ashtami Tithi sun pacification should be performed and on Navami, Moon pacification rituals are performed.

Before beginning the process of Greh Shanti, Kalash Sthapna and Durga Maa Pujan should be performed. After Puja, Navgreh Yantra is drawn on a piece of red cloth. After this, Navgreh mantra is chanted and resolution of Navgreh Shanti is taken.
On Pratipad, Mars is worshipped as this day, Mars Greh Shanti is performed. After Puja, with the beads of Moonga or Red Akik or Panchmukhi Rudraksha, Mars mantra are chanted for 108 times. Then, Mangal Kavach and should be read. For the Rahu Shanti, Rahu is worshipped and Rahu's mantra is chanted 108 times for auspicious results of Rahu.
God to be worshipped in Navratri
Lord Ram and Hanuman are also worshipped with Maa Durga during Navratri. Reading Sundarkand, Ram Charitra Manas and Ramayan is considered fruitful. Obstacles through enemy are removed. Desires are fulfilled. A person who worship Goddess in a systematic manner during Navratri, all his works are completed and his soul gets peace.
---
Comment(s) on this article
manjula prasad

said on Sep 16, 2011 09:29 PM

Navaratri is the most important puja in our country.Above procedure are very useful for systmetic puja .please add in detail kalash sthapna vidhi, mars mantra,mangal kavach,navgreh and rahu mantra .

Dinesh

said on Sep 27, 2011 03:46 PM

Pl tell the timing for the Kalash stapana for Navratri

Honey

said on Mar 09, 2012 02:33 PM

i like this site as this is quite useful!!

vishal choudhary said on Mar 17, 2012 02:53 PM

please give e some dates for the auspacious occasion of ring ceremony of my son in the month of20th march to 20 th april 2012... Thanks

callan

said on Mar 19, 2012 01:52 PM

Mangal Mantra Om hum Shreem Mangalaaya Namaha check out www.shreemaa.org, lots of usefuls stuff to read up about

Ajay K Pandey said on Mar 19, 2012 02:57 PM

Pl tell the timing for the Kalash stapana for Navratri

Ashok Kumar Sharma said on Mar 18, 2012 11:08 AM

Pl inform me whether Navratra Puja days of this year are good for performing SHUB KARYAS.

armaan said on Mar 18, 2012 03:30 PM

it is very good site,it want to know the timing of kalash sathaapna

sunil kumar sriwastava

said on Mar 21, 2012 03:34 PM

sir, may you advice me the best time of Ghat sthapna in 2012 chaitra Navratra

Arshia said on Mar 23, 2012 05:43 PM

these days are very powerful days of the year

DEVKUMAR ACHARYA

said on Mar 24, 2012 09:51 AM

ALL THE HINDUS SHOULD DO THE NAVRATI

Charu Jain said on Mar 26, 2012 03:47 PM

I have mistakenly done kalash sthapana after sunset in evening on 1st day of navratri. I know it should be done in the morning. Pls let me know how to correct this mistake.

Dipak C Purohit said on Mar 24, 2012 09:39 PM

Very good information up loaded.JAI MATAJI.

Sharmistha Dhar

said on Mar 24, 2012 10:06 PM

Kindly each day according to tithi

Namita

said on Mar 28, 2012 02:30 PM

can baby's mundan be done on navratri? if so pls tell the best days. is ramnavmi ok?

dr prasant mohanty said on Mar 29, 2012 07:01 AM

well versed about chaitra navaratri i would suggest that pls tell how to do puja from day1 to day9 thanks

monika

said on Jun 25, 2012 05:34 PM

Pranaam We are planning griha pravesh on 29th june 2012 e, can you please suggest if there is a griha pravesh mahurat. we entered a house with kalash during navratri 2012 but didn't moved in the house . Thanks

rohit

said on Sep 28, 2012 12:49 AM

navratras starting date

Ashok Khandelwal

said on Oct 15, 2012 08:04 AM

Happy Navaratra to all

sudheer

said on Oct 17, 2012 05:22 PM

Nice work. May MAA bless you

Anjali

said on Jan 17, 2013 04:03 PM

Can we do grihpravesh in lucknow on 11th april2013

Usha

said on Mar 22, 2013 10:20 AM

I like navratra puja .Happy navratra to all viewers

As

said on Apr 08, 2013 10:47 PM

Can we do grahpravesh in Navratri...even there is Tara Asat observe till 23rd April ' 2013. Also in ramnavmi of any day of Navratri will be good. Please reply...

asha

said on Apr 11, 2013 02:53 PM

very interesting

Sanjay said on Apr 10, 2013 05:48 PM

Wish you all a very happy Navaratri may MAA Durga bless you....... you may contact me for Navaratri prayers which is free of cost. Jai Maata Dee

Sanjay said on Apr 10, 2013 05:53 PM

Charu...nothing to worry if you have done any mistake Tum jaanati ho ki Maa mamta mayi hai, karuna mayi hai wo sirf kripa barsati hai...yadi kuchh galati huyi bhi hai to dil mein maata rani se maafi maang lo aur un se prarthan karo ki hai maa mujhe rasta dikhao mujh par kripa karo... Jai Maata dee

Sanjay said on Apr 10, 2013 05:57 PM

Jai Maata Dee Waise to har din Maa Bhagwati ki kripa se shubh hota hai parantu NAVARATRI ke Nau dino mein kisi bhi din koi bhi shubh kaarya kiya jaa sakta hai..kaarya avashya shubh falit hoga.. Jai Maata Dee

Indro

said on Apr 11, 2013 08:36 AM

I like Navratri Puja Mother Durga blessings to all

AJAY

said on Apr 16, 2013 09:36 PM

very nice information thanks we are living outside INDIA; so we need this information thanks and JAI MATA DI

yogina

said on Oct 04, 2013 08:09 PM

At what time is good to do the stapan of kalash in Mauritius

naresh

said on Oct 06, 2013 10:21 PM

can i get the song of Nine Incarnation of Goddess chaitra plzzzz.....

vikas

said on Mar 15, 2014 01:53 PM

hi mataji ki puja karna bahut jarori hai

Nupur

said on Mar 23, 2014 11:24 AM

Can you kindly tell what shuld be correct order of worship. AS per my understanding first worship Maa that is complete the shaptsathi for that day and then followed to read sundar kand and hanuman chalisa... is this correct? and finally do havan with maa mantra and offer art i to Maa?

Navratri said on Mar 31, 2014 02:38 AM

Happy navratri

d.n.gaur said on Mar 31, 2014 04:05 AM

can kalash stapana be performed after sun-set.

nareshagarwal

said on Apr 07, 2014 11:28 PM

This is very knowledgeable but I still wish to know the link between navrate and Ramnaumi celebrated in march/April.

pallavi singh

said on Mar 13, 2016 11:44 AM

is i can do mundan in chitra navaratra of my baby?

Madan Pandey

said on Apr 05, 2016 03:28 PM

May I perform grih Pravesh during this Navratri at Pune.

kamlesh Rani said on Apr 07, 2016 03:07 AM

At what time I can eat the navratra Khana.

Ramesh Chander

said on Apr 08, 2016 05:59 AM

why did first day of Chaitra Navratri of 1988 fall on the day of Amavasya? Whereas it should begin on Pratipada Tithi.

Manish

said on Jun 12, 2017 08:25 PM

Can Grih Pravesh be done during Navratra, Vijaya Dashmi?
Leave Your Comment
Please wait