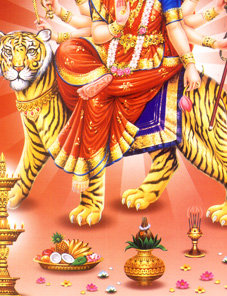 Free Vedic astrology
Vedic Horoscope
Daily Astrology
Compatibility
Yearly Horoscope
Lal-Kitab Astrology
Numerology
Hindu / Indian Names
Importance of Navratri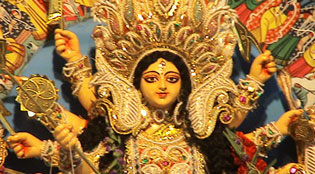 In 2017, the Shardiya Navratra poojan is beginning on 21st Septembber, Pratipada of Ashwin Shukla Paksha. There is Hast Nakshatra, Shukla Yoga, on this day. This day holds great importance for the devotees of Mata Sharda. Observing Navratra fast for nine days with all the rituals blesses the person with virtue.
Worshiping of Nine Forms of Mother
The Navratra that begins on Ashwin Shukla Paksha Pratipada and continues for nine days is called Sharda Navratra. The meaning of Nav is nine as well as new. From Sharda Navrata onwards, season starts changing and the days become smaller and colder. To avoid the effect of change of season, there is a tradition of observing Navratra fast of nine days since ancient times.
During this period, the worshipper consumes plain food and meditate god. This helps gain good health and virtue. These nine days are also called the day of worshipping Shakti(Power).
There is a tradition of observing Navratra twice a year. First Navratra is from Pratipada of Chaitra month to Navami and the second is exactly after six months in Pratipada of Ashwin Shukla Paksha to a day before Vijayadashami. In the two Navratras Sharada Navratra is given more importance.
Importance of Navratra
In Navratra, people observe different types of fast, patience, rituals and perform meditations. The devotees of Mata gather at all the 51 peeths of Mother to worship her. People unable to visit the Peeth goes to any temple nearby and worship her.
The term Navratra denotes nine auspicious nights. During this time the nine forms of Goddess Shakti are worshipped. Night term denotes Shiddhi.
For worshipping and Siddhis, night is considered more important then day. Most of the Hindu festivals like Diwali, Holika Dushehra Shivaratri, Navratra etc., are celebrated in the night.
Siddhi works are performed especially in the festivals celebrated at night. Adding the Ratri term in Navratri also denotes that these nine nights should be used to meditate and worship Mata Shakti.
Reason for Doing Religious Works at Night
The saints has given more importance to night. Understanding it scientifically; night is peaceful and quite, tantra-mantra and other supernatural things are in strong position. It is easy to concentrate in the night. Chanting Mantra in a peaceful environment yields auspicious results. Many obstacles of nature are removed. This time may be used for gaining mental power and Yogik powers.
Scientifically, performing things during the day, increases the chances of problems in concentrating; just the way radio signals face problems during day time but improves in the night. The sound of the bells and conch kills Germs up-to far away places. This period is used for Siddhi for fulfilling wishes.
Importance of Navratra for Siddhi
Durga Puja alos begins on the day of Sharda Puja. During these days, Tantra-Mantra works are also done along with Durga Puja. All the accustoms are considered incomplete without Mantras. According to the scriptures, every person should worship any planet to gain peace and prosperity.
Mantra is of great help in pacifying the planets. Pacifying the planets during the nine days of Mata gives auspicious results. Chanting Mantra during Navratra fulfills the wishes immediately. On the first day of Navratra, the Kalash is established and Goddess Durga is worshipped.
Religious Importance of Navratra
The first Navratra of 2017, is on 21 March from Navratra of Chaitra and Ashwin Paksha, there are two other Navratras as well; the first is the Gupta Navratra of Ashadh Shukla Paksha and the second is Gupta Navratra of Magh Shukla Paksha. These two Navratras are used to learn occult sciences. In addition, it is also used for accomplishing aim(Sadhana Siddhi).
The time is favourable for People having interest in occult science. Family men can also worship Mata and arouse their internal power. The worshiping and prayers of this time never goes in vain. Goddess gives the fruits to the devotees as per their meditation. Donations and other virtuous works are also considered important these days.
---
Comment(s) on this article
There no comments yet. Be the first to leave one.
Leave Your Comment

Please wait