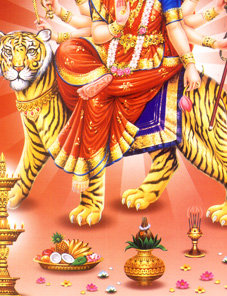 Free Vedic astrology
Vedic Horoscope
Daily Astrology
Compatibility
Yearly Horoscope
Lal-Kitab Astrology
Numerology
Hindu / Indian Names
Chaitra First Navaratri 2017 Dates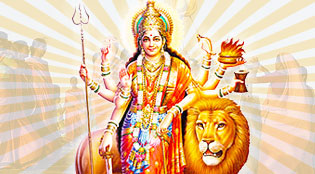 Nav Samvatsar will start from 28th March 2017. This day is the first Navratri of Chaitra Shukla Paksha and so, Kalash Sthapna is being performed. Nine incarnation of Goddess Durga are worshipped on these nine days of Navratri in a systematic manner. Moreover, a person gets virtues by performing Puja, meditation, Yagya, donations, fasting etc. in theses days. This year, the Navratri festival will be till 5th April 2017.
Lord Ganesha Pujan
On the date of Pratipad, before starting Navrati Puja, Kalash Sthapna or the Ghat Sthapna is performed. Devi Pujan has a great Mahatmya in the Hindu Dharm. In this period, 9 days fasting is observed. On the 9th day, 10 years old girls are worshipped and offered food.
Ghat Sthapna in Subh muhurat
In every religious pilrimages, Ghat Sthapna is performed during the auspicious muhurat after sunrise. On the first day of Navratri, Goddess Durga and Lord Ganesha is worshipped. Seeds of barley and wheat are sown in soil, placed in a vessel made of mud.
On the day people take the resolution of fast, Yagya, Puja and start worshipping Goddess. on the first day of Navratri, Shailputri incarnation of Mata is worshipped. It is well known that Mata Shailputri is the daughter of Himalaya and is also known as Goddess Parvati. Fast is observed during Navratri in order to please Goddess. And, Path of Maa Durga is performed at night. A person get auspicious results of performing Jagran in the nights of Navratri.
Nine Incarnation of Goddess
Nine incarnations of Mata are worshipped during Navratri. the names of nine Goddesses are as follows :-
Shailputri
Brahmacharini
Chandraghanta
Kushmanda
Skanda Mata
Katyayani
Kalratri
Maha Gauri
Siddhidatri
Chaitra Paksha First Navratri - Ghat Sthapna Procedure
Shardiya Navratri is begin on Pratipada Tithi of Ashwin Shukla Paksha by Kalash Sthapna. In Hindus, Kalash is considered as the form of Mangalmurti Ganesha. Hence, first of all, Kalash Sthapna is performed. for this, the ground is made pure and clean by applying a paste of cow dung and Ganga Jal. As per the process, 7 types of soil is taken and a Peeth is prepared. If 7 types of soil is not available, then soil brought from river is mixed with Gangot (soil of river Ganga) and Kalash is established on this.
Mata Shailputri Puajan - Devi Pujan on First Day of Navratri
In Kalash, seven types of soil (Saptamatrika),betel nut,money is offered. And Kalash is adorned with five types of Pallav. Beneath the urn, 7 types of cereals and barley is grown which is cut on Dashmi Tithi. Worshipper and his family get blessings of happiness, wealth, health by chanting the mantra "जयन्ती मंगला काली भद्रकाली कपालिनी, दुर्गा क्षमा शिवा धात्री स्वाहा, स्वधा नामोस्तुते".
Goddess Statue Establishment
Statue of Goddess Durga is placed in the middle of the worshipping place. On the right side of the statue, idols of Devi Mahalakshmi, Ganesha and a Yogini named Vijaya are placed. On the left, idols of Karthikeyan, Mahasaraswati and Yogini Jaya are placed.
Lord Shiva is also worshipped as no prayer is considered complete without his Pujan. On the first day, Devi Shailputri is worshipped in the form of Bhagwati Durga Durgati Nashani is worshipped with flowers, Akshat, Roli, sandalwood. This way Durga Puja is started and every evening, Aarti of Goddess Durga is performed. Devotees sign the bhajans 'Jag Janani Jai Jai' and 'Jai Ambe Gori', while performing Aarti.
Navratri : Grah Shanti
Procedure of Nav Grah Shanti during Navratri are as follows:-
On the day of Pratipada, Mars planet pacification is done.
On Dwetiya, work related to Rahu planet pacification are performed.
On Tritiya, Jupiter planet pacification works are done.
On Chaturthi, a person performs Saturn pacification and avoid the inauspicious effects of Saturn.
On Panchami, Mercury planet, on Shashti Tithi, Ketu, on Saptami, Venus planet pacification, on Ashtami Tithi sun pacification should be performed and on Navami, Moon pacification rituals are performed.

Before beginning the process of Greh Shanti, Kalash Sthapna and Durga Maa Pujan should be performed. After Puja, Navgreh Yantra is drawn on a piece of red cloth. After this, Navgreh mantra is chanted and resolution of Navgreh Shanti is taken.
On Pratipad, Mars is worshipped as this day, Mars Greh Shanti is performed. After Puja, with the beads of Moonga or Red Akik or Panchmukhi Rudraksha, Mars mantra are chanted for 108 times. Then, Mangal Kavach and should be read. For the Rahu Shanti, Rahu is worshipped and Rahu's mantra is chanted 108 times for auspicious results of Rahu.
God to be worshipped in Navratri
Lord Ram and Hanuman are also worshipped with Maa Durga during Navratri. Reading Sundarkand, Ram Charitra Manas and Ramayan is considered fruitful. Obstacles through enemy are removed. Desires are fulfilled. A person who worship Goddess in a systematic manner during Navratri, all his works are completed and his soul gets peace.
---
Comment(s) on this article
There no comments yet. Be the first to leave one.
Leave Your Comment

Please wait