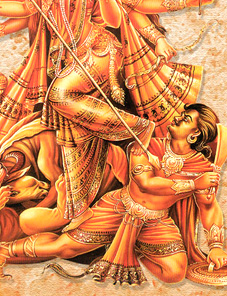 Free Vedic astrology
Vedic Horoscope
Daily Astrology
Compatibility
Yearly Horoscope
Lal-Kitab Astrology
Numerology
Hindu / Indian Names
Durga Puja of Bengal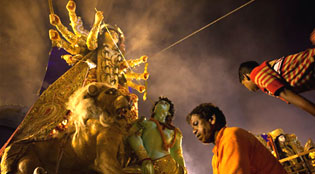 On Shasti, idol of Goddess Durga is praised and established. This way, Durga puja is begun. The cover on the face of Goddess is removed on this day. On Saptami Tithi, special Puja is offered to Mata Durga, her son Ganesha and his wife. A stem of banana is taken and wrapped with a new white sari having red border which is used as a symbol of lord Ganesha's wife. Also, a Hawan Kund is prepared on the occasion of Durga Puja. The Hawan is performed with sticks of rice, banana, mango, Peepal, Ashok, Bel etc. Maha Saraswati is worshipped with 108 lotus flower on this day.
After Saptami, comes the Ashtami Tithi. It is believed, Goddess Durga killed Mahishasur on the day of Ashtami. Goddess is worshipped with 108 lotus flowers on the day of Ashtami. Mahalakshmi, the symbol of luck and prosperity is worshipped in the Sindh Kaal. 108 lamps are lighted in this Puja. And on Navami Tithi, Goddess is offered the Bhog. On Navami, destroyer of demons Chand- Mund, i.e. Goddess Chamunda is worshipped.
After Dashmi Tithi, idol of Goddess is immersed in water. According of a belief, Mata comes to her parents house for 5 days. And, she goes back to Kailash mountain after the immersion of Dashmi. Before Visarjan, married women worship Goddess and apply Sindoor on their forehead. Then, everyone share sweets among each other and Sindoor is played.
Durga Puja Idol Making
We need to go through the pages of history for knowing that when Durga Puja had begun. According to a belief, 12 Brahmans of Hugli began the Durga Puja in the 18th century. But, making of idol was started from 11th century itself.
In the mythological period, animals were sacrificed during Durga Puja, This was stopped by Ramkrishna Rai. In the modern life, Durga Puja is restricted to wealth Kumber. The Puja tradition is not the same as before. Now-a-days, people have more interest in seeing the Jhaki rather then Puja. Idols of Goddess Durga are the symbol of faith and devotion.
These statues are artistic. It is foolish to see the female beauty of it. Durga Puja should not be considered as a medium of showing off, social status etc. Lord Ram also worshipped Goddess Durga before fighting with Ravan. Ram of today show lack of respect towards females. That is why, men has to many a times face defeat in different areas of life. Durga Puja is very famous in Bengal. The cultural roots of Bengal and consciousness of their faith towards Durga Puja is very strong.
If Mahishasur is the symbol of injustice and oppression then Goddess Durga is the symbol of power and justice. She symbolizes the victory against every injustice. Her eyes not just have tears of compassion and mercy but also the fire of anger. Durga is a great lady who is given the honoured with the name 'Devi'. The Goddesses seated with Durga are Lakshmi (symbol of wealth) and Saraswati (symbol of knowledge). Lord Ganesha is the destroyer of obstacles and Karthikeyan is the symbol of modesty.
Things to Remember while Performing Durga Puja
The motive of performing Puja in a systematic manner is to avoid any kind of mistake. And, the purpose of worship is attained. There is no hindrance in the auspicious work. Many a times, we worship in a systematic manner but then also our work dose not get completed. While performing the Puja of Goddess Durga, many precautions should be taken. The followings things should be kept in mind.
1.Never use grass, Tulsi or Amla in the Puja of Goddess Durga. Also, flowers of Aak should be used. Red colored flowers are very dear to Goddess Durga, so try using red flowers in Puja.
2.Flowers used for Puja should be pure. Flowers which are cut or in poor condition should not be used while worshiping. As, red flowers are dear to Goddess, hence, everyday fresh red colored flowers must be used. Fresh flower maintain the auspiciousness of Puja. Apart from red color flowers, one can used flowers of jasmine, Bela, Kevda, Palash, Champa etc. for worshipping.
3.If there is one or more idol of Goddess Durga then its cleanliness should be maintained. Keeping more than two idols in a house can be problematic for family.
4.While performing Puja, person should wear dried clothes and tie up the hairs.
5.During Hawan, Puja or meditation, no cloth should be tied around the neck. And, person should have full concentration in Puja.
---
Comment(s) on this article
There no comments yet. Be the first to leave one.
Leave Your Comment

Please wait