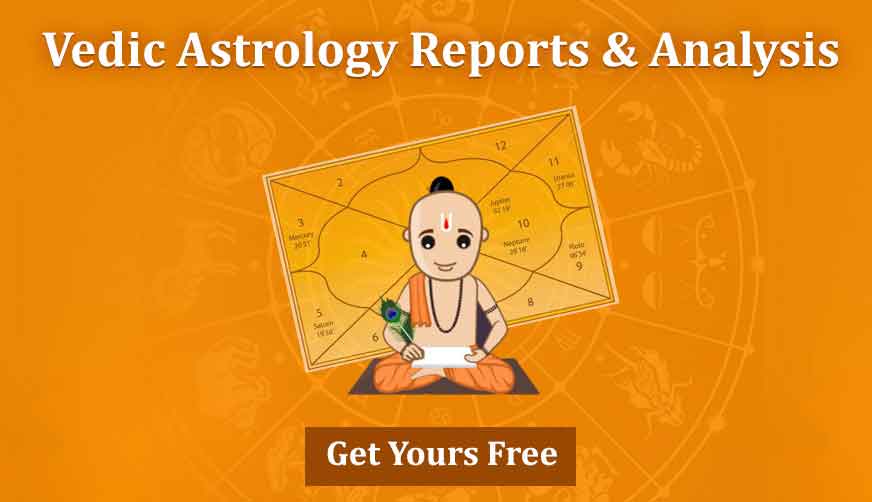 Purnima Tithi - Hindu Calendar Tithi | Purnima Tithi Importance | Amavasya Tithi
Purnima tithi is the date in which full moon is visible. This date is considered to be gentle & strong. This tithi has been given special strength in astrology. On Purnima, the Moon has more strength and the power of attraction increases. In scientific form also, the condition of tide reflux becomes more intense during the full moon. On this date, a boom in sea waves is also seen. This tithi also affects the native mentally. In the human body, it is said that the water level is high, so in this case the feelings & energy level in the human body increases on this date.
This tithi is also considered important for organising religious & auspicious programs. Puja & donations made on this day holds great importance & it has been mentioned in the astrological scriptures. (). On this day Lord Vishnu is worshipped. In this case, puja done on this day impresses God quickly and it also fulfills the wishes of the worshipper.
Females observe fast on this day to fulfill their wishes & to bear a child. They wish for their happiness & long life. Purnima is known by different names in India & accordingly it is celebrated in the form of a festival.
Native born in Purnima Tithi
The native born in Purnima tithi is a wealthy person. That person is intellectually capable. He is able to complete all his work with his intelligence. Along with this he also likes food. He is interested in enjoying high quality delicious food. The native born in this tithi has the capability to do business. Sometimes, he may get attracted towards opposite sex even after marriage.
The native has more morale, he does not accept defeat easily. The person has the desire & passion to live life. He wants to move forward in life with his own efforts. He may also have the tendency to show off. He can be more hasty.
The imagination power of the native is very good. He looks different in the crowd due to this ability. He becomes the centre of attraction. A strong moon helps in developing the emotional, creative, aesthetic, romantic, idealism etc. capabilities in the native. The native has the capability to perform creative, music or any type of expression with firmness.
He can be romantic also due to strong mental power. At times he can be too frenetic or irrational, which shows the negative side of them. The native can be highly ambitious.
Satya Narayan Fast
On Purnima tithi, observing Satya Narayan fast is considered auspicious. On Purnima tithi of every month, a person observes fast according to their capabilities. If they cannot observe a fast, then they only perform puja & recite the story. On this fast, bathing in holy rivers & performing charity holds great importance. In this fast, Lord Satya Narayan is worshipped. Fast is observed on whole day & in the evening puja & story reciting are performed. Water is offered to the Moon. After puja, prasad & fruits are eaten. By observing this fast, the native gets desired results & happiness of bearing a child.
Purnima Tithi Yoga
On Purnima tithi, when the Moon & Jupiter are present in the same nakshatra, then this type of Purnima is highly auspicious. Performing charity on this type of Purnima is considered highly auspicious. The ruling lord of this Purnima is Moon God. The native born on this date should regularly worship Moon God.
Importance of Purnima Tithi
On this day, the Sun & Moon both are in front of each other. Which means they are situated in the Seventh house from each other. Along with this, it is also called as 'Purna Tithi'. This tithi is used in all the auspicious work due to its auspiciousness. On this day, Shukla Paksha ends and Krishna Paksha ends. In one Moon year, there are 12 Purnimas. Some or the other festival is celebrated on Purnima tithi, that's why the arrival of Purnima signifies the arrival of a festival.
Work that can be done in Purnima tithi
House Construction
Buying jewellery & clothes
Buying a new vehicle
Travel
Work related to crafts
Marriage & other auspicious work
Puja & havan
12 Month Purnima
Chaitra month Purnima - Hanuman Jayanti is celebrated on this day
Vaishakh month Purnima - Buddha Jayanti is celebrated on this day
Jyeshtha month Purnima - Vat Savitri & Kabir Jayanti are celebrated on this day
Ashad month Purnima - Celebrated as Guru Purnima
Shravan month Purnima - Raksha Bandhan is celebrated on this day
Bhadrapad Purnima - Purnima Radh is completed
Ashwin month Purnima - Sharad Purnima is celebrated
Kartik month Purnima - Hanuman Jayanti & Guru Nanak Jayanti are celebrated
Margashirsha month Purnima - Shri Datatreya Jayanti is celebrated
Posh month Purnima - Shakambari Jayanti is celebrated
Magha month Purnima - Shri Lalita Jayanti is celebrated
Falgun month Purnima - Holi is celebrated