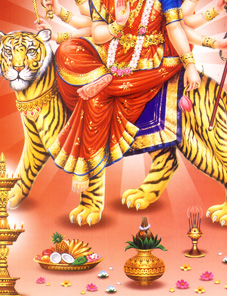 Free Vedic astrology
Vedic Horoscope
Daily Astrology
Compatibility
Yearly Horoscope
Lal-Kitab Astrology
Numerology
Hindu / Indian Names
Bhog Offered to Goddess During Navratri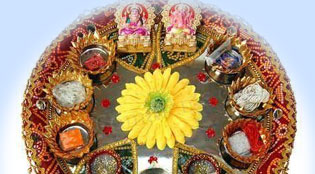 Navratri fastival continues for nine days. During this period, the different forms of Goddesses Parvati, Lakshami and Saraswati are worshipped respectively for three days each.
The Nine Forms of Goddess
In addition, the nine forms of Goddess Durga is also worshipped during this period of Navratra.
These nine forms of Mata is known by the name of Navdurga. The nine forms of Mata Durga which is worshipped during Navratra are: Shailputri on Pratipada; Brahmacharini on Dwitiya; Chandarghanta on Tritiya; Kushmanda on Chaturthi; Skand Mata on Panchami; Katyayani on Shashthi; Kaalratri on Saptami; Mahagauri on Ashtami and Siddhidatri on Navami.
After observing fast for nine days during Navratri, it is ended on Navami Tithi of Ashwin Shukla Paksha. All the fasts and festivals of Hindus are considered incomplete without offering Bhog. During the nine days of Navratra, different Bhog are offered everyday to the nine Goddesses. The different Bhog offered to the nine Goddesses during Navratri are:
Bhog offered to Maa Shailputri
First Navratra is celebrated on Pratipada of Shukla Paksha. On this day Maa Shailputri is worshipped. Mata Shailputri is a daughter of Himalaya and thus is called Shailputri. On this day fast is observed and pur Ghee is offered on the foot of Mother.This blesses the devotee with a disease free life.
Bhog Offered to Mata Brahmacharini
The second form, Mata Brahmacharini, of Mata Durga is worshipped on the Dwitiya of Ashwin month. This form of Goddess is like monastic. Mata Parvati meditated to get Lord Shiva as husband and due to this she is called Brahmacharini. On the second day of Navratra, Mata Brahmacharini is worshipped and fast is observed to get her blessings.
Sugar is offered as Bhog to Goddess Brahmacharini. This increases the longevity of the family members.
Bhog Offered to Mata Chandraghanta
Mata Chandra ghanta is worshipped on the third day on Navratra, i.e., Tritiya Tithi of Ashwin Shukla Paksha. The half form of Moon is existing on the head of Mata. Worshipping mata Chandraghanta fulfills all the wishes of the devotee and gets rid of all the worldly pains.
On this day, milk, sweets made of milk or Kheer is offered as a bhog to Mata Chandraghanta. While offerening Bhog to god, Brahmans are also fed and Dakshina is given. Offering Kheer to Mata Chandraghanta frees the person of all his pains and receives extreme joy and happiness.
Bhog Offered to Mata Kushmanda
The fourth day of Navratra is the day of worshipping Mata Kushmanda, the fourth form of Goddess Durga. According to a belief, the universe is formed from the abdomen of Mata Kushmanda. Observing fast on this day removes all the diseases and pains of the devotee.
After worshipping, Mata Kushmanda is offered Malpua as Bhog. Distributing this sacrament in the temples are also considered auspicious. Offering Malpua as Bhog pleases the Goddess and improves the intellect and decision makeing ability of the devotee.
Bhog Offered to Mata Skandmata
Mata Skandmata is worshipped on the fifth date of Navratra. Skandmata is the mother of Kumar Kartikeya. Worhsipping this form of Mata fulfills all the wishes of the devotee.
Banana is offered to the Goddess as Bhog. Offering Banana to the goddess keeps the physique healthy.
Mata Katyayani - Bhog Offered
Mata Katyayani is the sixth form of Mata Durga and is worshipped on Shashthi date of Ashwin month. Mata Katyayani is the daughter of Sage Katyayan. On getting pleased with the meditation of sage Katyayan, Mata took birth as his daughter and thus she is called Katyayani.
On this day, Honey is offered as Bhog to Maa Katyayani. This makes the devotee more attractive.
Bhog Offered to Mata Kaalratri
mata Kaalratri is worshipped on the saptami date of Navratri. This form of Maata Durga is a remover of all the evil powers and thus is called by the name of Kalratri. On this day fast is observed whole day and then Jaggery is offered as Bhog to the Mata.
This Bhog is also given to Brahman along with Dakshina. Worshipping the Goddess in this way relieves the devotee from all his pains and also reduces the abrupt pains that may arise.
Bhog Offered to Mata Mahagauri
On the day of Durga Ashtami, the eighth form of Mata, Mahagauri is worshipped. Due to her fair complexion she was named Mahagauri. Worshipping this form og Goddess pleases her and blesses the devotee with success in all his works.
On this day Coconut is offered to the Goddess as Bhog. There is also a tradition of donating Coconut to the Brahmans. Goddess Mahagauri fulfills the wishes of childless couples with child.
Goddess Siddhidatri - Bhog Offered
On the ninth day of Navratra, Mata Siddhidatri is worshipped. Mata Siddhidatri is said to fulfill all types of wishes. She is also called the Goddess of Siddhi(accomplishement). Offering Til as a Bhog after observing fast and worshipping, is considered auspicious on this day. This fast relieves the person from the fear of death and prevents from any unlikely incident. The nine days of Mata is considered the most auspicious of the year. As Navratra comes twice a year, so 18 days holds a place of great religious and spiritual importance in India.
Incarnation of Maa Durga - Mythological Facts
According to a mythological story, to free the Gods from the terror of the Demons, the mouth of Mata Durga appeared from splendor of Lord Shiva; the hairs appeared from the magnificence of Yamraj; the arms from Lord Vishnu; the breasts from Moon and waist from Indra. The magnificence of Varun created the thighs and calf; Navel(Umbilical Chord) from Earth; foot from the magnificence of Brahma; fingers appeared from the splendor of Sun; nose appeared from the magnificence of Kuber; teeth and the three eyes from Agni and eye brows from Vayu. In the same way the other body parts of the Goddess Durga are also formed.
---
Comment(s) on this article
Aarti Patil

said on Apr 10, 2013 01:48 PM

Excillent info....free personal horoscope should b given.

sukhman

said on Apr 11, 2013 11:44 AM

like it lovly navraitri

brijesh kumar mudgal

said on Apr 11, 2013 10:09 AM

it is a very good knowledge given about 9 mata in short thanks

Sushma Isar

said on Apr 11, 2013 10:28 PM

very rare informative article. thanks for the research work

Anita

said on Sep 26, 2013 12:44 AM

What is malpua, jaggery, til?? Is til seseme seed?

veena ramrup said on Sep 28, 2013 02:50 PM

thank u very interesting :MAA bless all the devotees

joshua

said on Oct 03, 2013 05:01 PM

what colour til and how is it presented...in water?

suhasini

said on Oct 02, 2013 08:24 PM

It is nice to see all Bhog for maa durga but what to be offered on the tenth day.and what are the nine colours to be were on this day's. It was nice to know some details about Maa Durga.thank you very much.

vijay

said on Oct 05, 2013 07:06 PM

very useful ! excellent information rarely available thanx a lot

sivaranjini said on Oct 06, 2013 05:34 PM

Thank'Q very much to update good information............. jai matadi.....

namdev prabhu said on Mar 25, 2014 11:33 AM

types of bhog to ma durga from first day to 15th day of each paksha, please specify tithiwise

shweta

said on Apr 04, 2014 05:08 PM

Which color til is offered on 9th day. Please reply

ashok kurkanji said on Apr 05, 2014 10:54 PM

V nice information about bhog.offered during navratri

sheela

said on Sep 25, 2014 09:09 PM

thanks for great information.

NILEM

said on Oct 01, 2014 07:04 PM

what sort of coconut to offer to Mata Mahagauri

Nilem

said on Oct 01, 2014 07:05 PM

what sort of til to offer on 9th day and how

Tulsi Ram Gupta

said on Oct 13, 2015 01:59 PM

Very useful and helpful for me and also to others. Thanks

ritendra

said on Oct 13, 2015 10:55 PM

what to with offering made to devi durga in navratri puja?
Leave Your Comment
Please wait