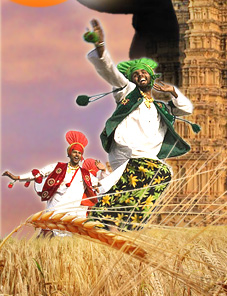 Free Vedic astrology
Vedic Horoscope
Daily Astrology
Compatibility
Yearly Horoscope
Lal-Kitab Astrology
Numerology
Hindu / Indian Names
Lohri: A Festival of Fun and Gaiety, 13 January, 2017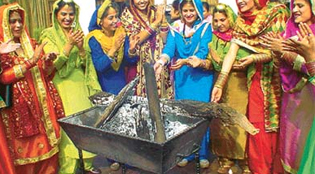 In Punjab the life is lead in a different style. A tradition of living life with fun and gaiety, enjoying very moment, can be seen here. Glimpse of this life style can be seen Lohdi festival, 13 January. Lohdi is celebrated in the evening before Makar Sankranti, in the northern states of India like Punjab, Haryana, Delhi, Himachal Pradesh and the near by areas. This day, the culture of these places display a new look.
Lohri in Punjab
Lohri is not just limited to Punjab. But here the look of this festival is something different. This day, the color and happiness is in full beauty and liveliness. While talking about Punjab how can we forget mentioning Mustard's Saag, Chapattis made of corn, smell of Earth, sweet smell of water from pot(Ghada). Lohri is a festival of thanking nature, and, the spark of joy is different if it is celebratd in the style of Punjab. Lohri is also called the knock of Makar Sankranti.
Music and Festivities on the Eve of Lohri
The folk songs in the evening of Lohri, make the environment musically beautiful. The fascinating songs are such a kind that even for ones a Bairagi(holy man/traveller) may also forget his way. And, the most important is Bhangra and, Gidda performed by charming ladies, which can't be forgot. As per the Hindu religion, it is believed that what ever we donate something in fire, it directly reach to our God and ancestors. On the day of Lohdi, the swinging crops from farm are brought home, then it is burnt in fire.Dancing and singing people move around it and do a thanks giving. Here also, there is a different style of worshiping God.
The echo of Bhagra, fire of woods in the evening and the smell of food items dedicated to fire, binds one village to another and one house to the other. This celebration is carried out till late night. Beats of huge drums, which tire the people people playing it, but the moments and dancing of legs don't stop and together the taste of Rewdi and peanut is enjoyed the whole night. The color of Lohri is dimmed after the first rays of morning.
Lohri, the Festival of Youth
Although the festival of Lohri brings in happiness for every class and age people of north India. But, it is particularly special for young men, women and newly married couples. Today, youth, girls and guys, dress up beautifully and organise a competition of signing. With the burning of wood in fire, the newly married couple wish for their happy and peaceful married life. At the places of cultural functions, the preparation of Lohri starts a day before the day of festival.
Celebration of Makar Sankranti
As the festival of Lohri is celebrated just an evening before Makar Sankranti. And, the festival has a direct relation with sun entering in Capricorn sign. Sun itself is a factor of fire and power. So, on this festival fire should be worshipped. The farmers, celebrate this festival as Lohri, in order to make their Gods happy and thank for the Rabi crop. On the eve of this happy occasion, wish you all a very happy Lohri.
---
Comment(s) on this article
AKHILESH RANJAN

said on Jan 13, 2012 04:07 PM

happy lohari to freind or famliy

Jaswant Singh Bali

said on Jan 13, 2012 06:30 PM

I feel a more detailed description of Lohri, its origin, significance and full text of the songs which boys and girls sing to "beg Lohri"were required in this article. One of the boys also becomes a "hiran" (deer), and tghen all the boys sing : " Hiran maarey takkar di= Dhe paropi shakkar di......". Some boys sing:" Aakho mundeo dherni, dherni..." Girls go "lhri mangan" and sing this song at the doors, especially at the door of the home where a son was born during the year: " Neen gigga jaameya= Neen gur wandeya= Neen gurey diaan rodiaan= Neen bhann marodiaan= Aakho kudio aitwaar aitwaar= Andar ditta bahar ditta, ghuggoo da bhadola ditta= sehr-massehra=...." Enliven this article with the folk songs

Raj said on Jan 04, 2013 03:26 PM

Awesome Festival in India.. :)

paras said on Jan 06, 2013 05:00 PM

happy lohri to all watch more wallpapers at http://deedfire.com/latest-happy-lohri-2013-hd-wallpapersgreetingspicsbest-wishes/

dalbir said on Jan 08, 2013 04:01 PM

said on Jan 13, 2012 04:01 PM

ved pant

said on Jan 10, 2013 12:26 PM

happy lohari to all my friends and the families.

Jaspreet Singh

said on Jan 11, 2013 11:56 AM

Happy Lohri to all my nearest and dearest

anil sharma

said on Jan 11, 2013 09:48 PM

happy lohri to my all nearest and dearest.

mani said on Jan 12, 2013 03:22 AM

happiii lohri ... Regards, mani dhiman

sarup

said on Jan 12, 2013 08:00 AM

very2 happy lohri to all of you

Daya Kishan Pant

said on Jan 12, 2013 08:48 AM

Respected Guru Ji, Greetings, I really do not know how to begin this mail but will try to attempt with a hope that you may advise me in some way. I am one Daya Kishan Pant. Currently living in New Delhi. I was born on a Thursday with following details. Name : DAYA KISHAN PANT DOB : 08TH MARCH, 1951 TOB : 0840 AM POB : PILIBHIT UP INDIA Passing through a rough patch with no job, no money and frailing health. Cant see a light at the another end. Losing hope and confidence. Getting suicidal tendencies. Have lots of responsibilities to fulfill. Please advise. Rgds/ Daya K Pant Mob : 7838040217

Sunil ahuja

said on Jan 12, 2013 09:30 AM

I like jaswant singh description of lohri. Liked the lohri song

parvinder said on Jan 12, 2013 01:20 PM

Mera birthday aaj sari duniya manayegi Happy birthday MINTU 12jan2013

prabhjot singh

said on Jan 12, 2013 04:31 PM

Happy lohri all punjabi vera ta bjorga nu

Harjeet Singh Toor said on Jan 12, 2013 06:09 PM

happy lohri all my frnds

alok said on Jan 12, 2013 07:07 PM

ya!Lohri is on Jan 13,2013 It is on Sunday.

alok singla said on Jan 12, 2013 07:10 PM

Yes Lohri is on January 12,2013.It is before Sangrand always.

jatt

said on Jan 12, 2013 10:42 PM

Its a hindu célébration molded on to uneducated sikhs, its not once mentioned in guru granth Sahib ji.... Wake up ppl

Dinesh001 said on May 13, 2017 07:33 AM

Very informative post! There is a lot of information here that can help any business get started with a successful social networking campaign!
Leave Your Comment
Please wait