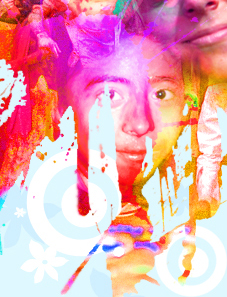 Free Vedic astrology
Vedic Horoscope
Daily Astrology
Compatibility
Yearly Horoscope
Lal-Kitab Astrology
Numerology
Hindu / Indian Names
Mathura, Vrindavan, Barsane and Bikaner's Unique Holi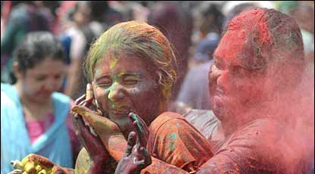 Holi is the Festival of colors. Many colors combine together to give a name "Rangotsav" to Holi. As many color that diverse are the styles of playing Holi. It seems as if Holi goes to different places and drench itself into diverse colors. There are many states of India, where if you see people playing Holi its remembrance will stay with you for the whole life. In Brij itself you can see variety oh Holi playing styles.
Vrindavan Holi
Holi of this place can't be forgotten even if you try forgetting it. In Vrindavan, Holi celebration starts from Ekadashi itself. Celebration of Holi, starts in all temples of Radha and Krishna on the next day of Ekadashi. On this day, Holi of flowers and Lathmar Holi is played. In the Holi of flowers, large amount of flowers are collected and are thrown on each other. This sight of flowers along with the echo of "Radhe-Radhe" reminds us of the Dwapar Yug.
In Vrindavan, the sculpture of Banke Bihari is placed outside the temple. As if Bihari ji has himself come to play Holi. At this place, Holi is celebrated for seven days. First of all with flowers, then with Gulal, dry colors, wet colors. This Holi dip everyone in it's shades. The hue of Holi of Vrindavan's Banke bihari temple is unique. People stand in queue for several hours to play Holi with their adorable.
Lathmar Holi of Barsane
Holi of Barsane is also famous because, Sri Krishna's lover Radha belonged to Barsane. And the relationship of Holi and Sri Krishna is very old. That is why, when talking about Holi Kahana's name has to be present and this Holi is famous overseas.
In the year 2017, Holashtak will start on 5th March, Ashthami Tithi, Sunday to 12th March. That is why, no auspicious work should be done between 5th March to 12th March. Also, during this time there will be a stop on the Manglik works.
Barsane's Lathmar Holi is the one in which men try to protect themselves from Lath of Gujjariyas. Before playing Lathmar Holi, these men are fed with food and drinks, properly, they are offered with different services. Then they are stroked with Lath. Men protect themselves from the Laths by wearing a turban on head and holding a tray type of shield.
In the game of shield and Lath it's kept in attention that men should not get hurt. This is Barsane's Lathmar Holi. Also, to keep safe of any big accident, this Holi is organised in a big ground. Here, the Holi is enjoyed for a full week. In Barsane's Lathmar Holi people are found dancing and playing. The preaching of Radhe Radhe fills joy in the celebration of Holi. Everyone apply lot of colors on each other. Devotees of Lord Krishna gather into a huge crowd just to have one drop of this water.
Mathura Holi
After the Barsana's Lathmar Holi, Baldev's (Dauji's) Holi is played in Mathura. Girls (Gopi) beat boys(Gwale) with the hunters made of cloth. The real recreation of Holi of Brij Dham can be enjoyed here only. Holi is played on different days with full liveliness and amusement in all the Radha krishna temples located here. A captivating view is presented by Holi of Flowers and dance. The view of Vrindavan's Banke Bihari mandir's Holi is just exceptionally beautiful.
Bikaneri Holi
Holi is played in a unique style in Bikaner. At one place in Bikaner, Dolhchi Holi is played. Dolchi, is a utensil made of leather, used to carry water on back. This Holi is organised on Harsha Chowk of Bikaner. Thousands of people come here to see this style of Holi.
To play this Holi of Bikaner, colored water is added with Gulal of affection in Dolchi. Then women fill it up and bash it hard on the back of men. This echo of bashing goes to far distances. The history of this tradition of Holi is near about four hundred years old.
Also, on the occasion of Holi you can find people organising mockery. That is, you see these guise people everywhere in this place. This arrangement of mockery is carried up to eight days. Where someone is seated in form of Lord Bholenath, and some other as lord Vishnu.
Punjabi Holi
In Punjab, the Anandpur Sahb's Holi Muhalla is really famous. This is called as Holi of Ram, Krishan's Holi, Holi of Radha, and Holi of Lord Shiva of Banaras. At the time of Holi in Punjab, a Holi Mohalla is arranged.
Banarasi Holi
In Banaras, from the day of Ekadashi only Abri and Gulal start flying in the air. During this time, a boom of Holi gatherings take place. Here, evryone applies Gulal and hug each other. Yet time could not put a dust on Holi of Banaras. The group of youths can be seen singing and dancing on the songs of Faag, playing drums etc.
As per the traditions of Holi at this place a procession is carried out. In which the groom rides on a chariot. On the arrival of procession, the groom is welcomed as per the traditions. A pavilion or an open hall is decorated. Due to a debate of bride and groom in that pavilion, the procession is sent back without giving them the bride. This way it's a different style of playing Holi.
---
Comment(s) on this article
There no comments yet. Be the first to leave one.
Leave Your Comment
Please wait