Marriage Analysis on Nadi Koota
19 January 2010
19,779 views
12 Comments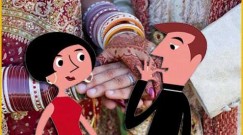 It is said that marriage is a new beginning of life. It is true to some extent because just like a person gets a new life after birth, similarly he goes to a new environment, meets new people and new family and forms new relationships after marriage. Before starting a new life, people prefer to get their birth-charts matched for a happy married life. Ashtkoota is considered for matching birth-charts. The eighth and the last koota of Ashtkoota is Nadi Koota.
According to Astrology, there are three types of Nadi. They are Aadi Nadi, Madhya Nadi and Antya Nadi. Let us see how these Nadis are divided:
Aadi Nadi
Jyeshtha, Mool, Ardra, Punarvasu, Uttraphalguni, Hast, Shatbhisha, Purvabhadra and Ashwini Nakshatra are counted in Aadi Nadi.
Madhya Nadi
Pushya, Mrighshira, Anuradha, Bharani, Ghanishtha, Purvashada, Purvapahlguni and Uttrabhadra Nakshatra are counted in Madhya Nadi.
Antya Nadi
Swati, Vishakha, Kritika, Rohini, Ashlesha, Magha, Uttrashada, Shravana, Raivati Nakshatra are counted in Antya Nadi.
Let us acknowledge in what positions Nadi dosha occurs:
According to Astrology, when the Nakshatras of both bride and groom are located in the same Nadi then this dosha occurs. Among all doshas, Nadi Dosha is considered very inauspicious for marriage. It is because when this dosha occurs it affects sarvadik Gunank i.e. 8 points.
According to Acharya Varamihir, if bride and groom both belong to Aadi Nadi it is not auspicious for their married life, as they may have to bear separation in the early years of their marriage. If they both belong to Madhya Nadi, they both may die. Similarly if they belong to Antya Nadi, they both will suffer various problems in their married life. To avoid these situations marriage is not allowed in all the three Nadis.
According to Maharishi Vasishtha, if during Nadi dosha there is a closeness in the Nakshatras of bride and groom, then the girl may die within a year of her marriage or she may become a widow due to her husband's death within three years of her marriage. In Ayurveda Aadi, Madhya and Antya are given the name of Vaat(Mystique), Pett (Bile) and Cough (Phlegem).
Nadi also affects the health of the person. It is considered that in the presence of this dosha the child of a person may not be developed both mentally and physically.
Nadi Dosha is not inauspicious in the following conditions:-
1. If the birth-nakshatras of bride and groom are same but their phases are different Nadi dosha does not occur.
2. If the signs of bride and groom are same and birth-Nakshatras are different they are free from Nadi dosha.
3. If the birth-nakshatra of bride and groom is same but their signs are different Nadi Dosha does not occur.
Remedy for Nadi Dosha
According to Piyush Dhara, if you donate gold, cow, clothes, food or a gold snake then it will be favorable for you. You can also cure Nadi dosha if you chant "Maha Mrityunjaya" Mantra or "Pranpratishtha" Mantra.